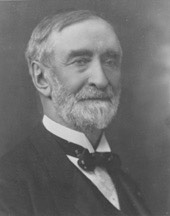 Atlee Pomerene was born December 6, 1863 in Berlin, Holmes County, Ohio.  He was a Democratic Party politician and represented Ohio in the United States Senate from 1911 until 1923
Pomerene studied at Princeton University and the University of Cincinnati Law School. He began practicing law in Canton, Ohio in 1886. After serving in a variety of city, county, and state positions as solicitor and prosecutor, Pomerene was elected Lieutenant Governor of Ohio in 1910. He briefly served in the post in early 1911 before being elected by the State Legislature to the U.S. Senate. Pomerene was re-elected in 1916, but lost a bid for a third term six years later. 
Pomerene was appointed by President Calvin Coolidge to serve as a special prosecutor to deal with the Teapot Dome scandal. He ran unsuccessfully for the Democratic nomination to the U.S. presidency in 1928.